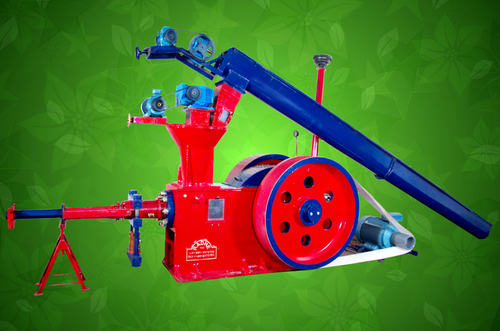 Product Description
What is Briquette : A block of compressed coal dust, charcoal, or sawdust and wood chips, used for fuel and kindling.
Biomass is emerging as the main source of energy in many countries due to drawbacks of traditional fossil fuels. Day by day increasing demand of renewable and non-polluting energy fuels and shortage of natural resources led us to make the reuse of the bio residues and the recycle of these waste for energy purpose. Also, many industries nowadays switch from traditional to bio fuels due to scarcity and high price of traditional fuels.
By offering Briquetting Plant System, our firm has gathered huge appreciation among global clients. The provided system is operated on high pressure and temperature to convert all kinds of agricultural wastes in perfectly sized briquettes. In order to designs and assemble this system in tune with international quality standards, our dexterous professionals utilize utmost quality components and avant-garde techniques. Apart from this, we are offering this Briquetting Plant System to the clients in various technical specifications at marginal prices.
Features:
Maximum efficiency and compact design
Suitable for online operations
High output with uniform briquette size
Easy to maintain and clean



Advantages
Briquettes are cheaper than coal.

Oil, coal or lignite, once used, cannot be replaced.

There is no sulfur in Briquettes, thus does not pollutes the environment.

Biomass briquettes have a higher practical thermal value

Briquettes have much lower ash content (2-10% as compared to 20-40% in coal).

Combustion is more uniform compared to coal

Briquettes are usually produced near the consumption centers and supplies do not depend on erratic transport from long distances.

Briquettes give much higher boiler efficiency because of low moisture and higher density.

Briquettes, are easy to store, pack and hygienic to handle.
Specification :

| | |
| --- | --- |
| MODEL: | JUMBO 90 |
| Production Capacity: | 1500 Kg/Hr and plusmn 20 % (Depending on Raw Material Size & Quality) |
| Power Requirement: | 91 HP |
| Input Raw Material Form: | Upto 25 mm can be used directly. (No need to grind it) |
| Moisture Content: | 10 to 12% Maximum (If higher than this, it would require to dry it.) |
| Finished Product Shape: | Cylindrical |
| Finished Product Size : | 90 mm diameter |
| Production Cost: | Indian Rs.530/- 10% |