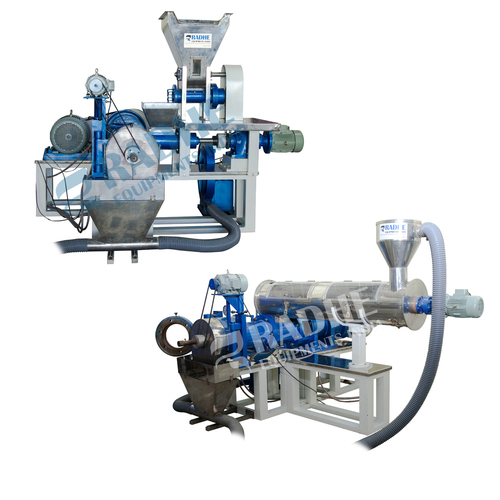 Product Description
Fully Automatic Fryums Line Call: +91-99090-55255
RICO is a name similar to quality and precision. We are a trustworthy organization dealing in the business of manufacturing, supplying and exporting of world class quality Fryums machine. The group with a vast experience of 27 years is diversified in to activities such as briquetting machines, manufacturer and exporter of Fryums snacks extruder machine, Fryums processing machine, Fryums production line, snack pellet making machine/extruder, Fryums extruder machine, Fryums snacks extruder machine, Snack pellets processing line Kachri Making Machine, Crispy snack processing line. Our all products are made with excellent qualities and modern technology. And not only our machinery but manufacturing unit is as well-equipped and meet all the quality standards.
With a view to becoming a global player in food industry, here we are going to introduce Fryums Machine Manufacture which is subsidiary of Radhe Group and our product portfolio consists vast range of 2D Fryums like ring shape, 9 Hole Square Fryums, Chowmein Shape Fryums, Mix Animals Shape Fryums, Onion Ring Shape Fryums, Aeroplane Shape Fryums, Rugby Ball Shape Fryums, ABCD shape, Bowl shape, wheel Fryums, Curve Shells Shape Fryums,polo ring Fryums, snacks pellets , Penny Pasta Shape Pipe, Finger Shapes Fryums,Square Pipe Shape and many more.
Our Fully automatic Fryums production line give 250kg per hour production and manufactured under experts and quality is unbeatable to win the hearts of our existing customers. And fully automatic line includes various other machines like mixing machine, panel board, and various types' dryers. So fully automatic Fryums machine is complete solution to make best quality of Fryums.
For Inquiry Contact Us..
Website: www.radhefryumsmachine.com
Email: info@radhefryumsmachine.com
Mobile: +91-99090-55255 / +91-87588-55255
Radhe Equipments India
Survey No 43, Plot no. 122-123,
Behind Perfect True Value Showroom,
Near Gondal Circle, Vavdi, Rajkot - Gujarat - India.